On the 26th of April 2023, ALL DIGITAL hosted an online event as a part of the ALL DIGITAL Weeks 2023 campaign. The event, titled 'Enhancing Critical Thinking through Media Literacy: CrAL project', aimed to shed light on the CrAL project and its role in promoting critical thinking through media literacy.
The event started by welcoming words from Peter Palvolgyi, CEO, ALL DIGITAL who opened the webinar with an introduction to the ALL DIGITAL Weeks campaign, which was followed by the presentation of the project, its aims, and results by Dea Kralj, Project Officer, ALL DIGITAL.
Afterwards, Chiara Borsini, Project Manager from EGInA shared more insights about the CrAL Methodology, and as a starting point Chiara explained the foundations of the idea of training in visual thinking since 'the language of images is the oldest language of our human species, and even before learning to speak, we think through images: lights, shadows, spots of color, lines.' Thus, media literacy is an essential skill, especially in today's world, where information overload and fake news make it difficult to differentiate between facts and fiction. Chiara presented the pedagogical framework of CrAL, training structure and materials produces while also giving examples of Edu packs.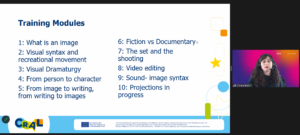 To make sure participants leave the webinar with a first-hand experience, we presented CrAL Manifesto and asked the participants to share a photo they associate with any of the points in the Manifesto:
The last part of the event was devoted to the exploration of the CrAL platform, and Eleni Georgakakou, Project Manager at DAISSy research group (Hellenic Open University). Participants could hear more about the technical development of the platform, what it includes and which services are provided on the platform. Additionally, Eleni showed how the platform and its content looks like, and invited participants to check out the platform.
You can check the recording of the event here.
Before closing the webinar, project partners invited participants to join the CrAL International Workshop which will take place on the 25th of September in Zagreb, as a part of ALL DIGITAL Summit 2023.
Stay tuned as we'll share more information soon!